12.09.2022 As pioneers, SAM North America, LLC and Aquapak Polymers Ltd. (USA & UK) are conjointly developing high performance paper based packaging which is recyclable as well as environmental friendly with multiple end-of-life options.
Aquapak manufactures a range of thermally-extrudable PVOH polymers whereas SAM designs and produces specialty extrusion coating and laminating lines.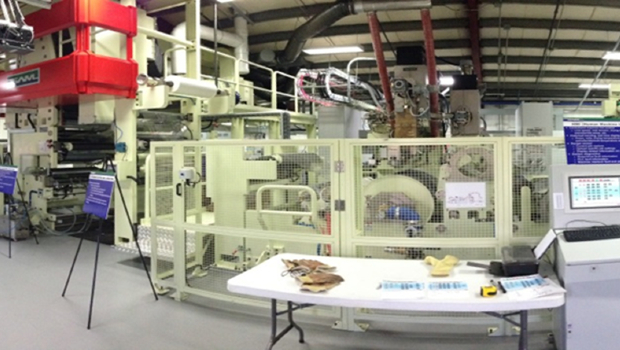 Key role for Extrusion Technology Center
SAM's North American Extrusion Technology Center plays a key role as on the state-of-the- art extrusion line, the unique formulations are tested and readily scalable to production. Samples produced are available for further testing or conversion into product for evaluation.
For instance, the recent work with Aquapak covered the application of Hydropol – 23g/m² at speeds of up to 250m/min.
As well as the close cooperation with Aquapak on recyclable paper packaging, SAM is also working with them on biopolymers such as PLA, PHA etc.
Adaptation of the extrusion line
Unique features and capabilities of the SAM line include:
- to stabilise the edges for high speed coating with low melt strength polymers, an edge encapsulation capability
- for low temperature processing at higher outputs, a special low shear / low temperature feed screw
- to allow a better chill roll release of bio-polymers tackified for improved bond to paper, a release coated chill roll
Presently, SAM is also continuing to work on web pretreatment for improved paper bond which is covering also chemical priming, corona, ozone, and flame treatment.
The experts of SAM and Aquapak are exhibiting at the K 2022 Show in Düsseldorf, Hall 5, booth A32.
SAM and Aquapak: Focus on paper-based packaging at K 2022 (coating-converting.com)​​