SAM is a world leader in the manufacture of converting
machinery and web fed printing.

SAM's reputation within the industry was built with a passion for innovative engineering
and product development.
Our global SAM team is ready for your next challenge in any part of the world. SAM's global presence, gained from supplying machinery to 33 countries, provides us the knowledge and capabilities to ensure your machine will be delivered and commissioned on-time, to your exacting standards. With our locations is in Korea, Asia, United States and Europe, and agents throughout the world, we are ready to supply you machinery that will surpass your expectations!
Since 1960, the Shin family has continually improved SAM's manufacturing quality, encouraged innovation, maintained on time delivery and excellent after sales service. Our continued success and growth is based on commitment to three generations of family values and to our customer's exacting standards for machines and custom engineered equipment. SAM also offers three R & D Labs to support our product lines.
Be confident of SAM as a partner to meet and exceed your desired results. Our long standing relationships with major industry leaders are testimony to the success of our projects. Our proven history also reassures start-up companies, or those considering expansion. Solutions Start with SAM.
CEO of Sung An Machinery(SAM) Dong Seong Shin

SOLUTIONS START WITH SAM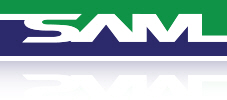 History
SAM has played an integral role in the development of
the converting machine production and technology
since its founding in 1960.
As a world class manufacturer, SAM offers the best product and service in the industry.
2017

Acceptance of industry-academically integrated apprenticeship school enterprise (Seoul Technical High School)

2016

SAM Solution Coating Lab established
in SAM headquarters
D.S. Shin, CEO of SAM, awarded the Bronze Medal of Industrial Effort from the gov't of Korea

2015

AIMCAL 2015 Technology of the Year
Award Recipient (AIMCAL: The Association
of International Metallizers, Coaters and
Laminators)
SAM Asia established dual offices in
Malaysia and China.

2014

SAM USA Extrusion Coating Lab established
in SAM NA, New York, USA.

2013

SAM Europe Srl established in Italy.

2012

Accomplished 30 million USD in exports
recorded. SAM awarded prize by
the President of Korea.

2010

SAM North America, LLC(SAM NA)
established in USA.

2008

Produced high speed Extrusion Coater and
Laminator (500 mpm)

2007

SAM breaks ground for high tech industrial
research and development facility.
SAM Printed Electronics Lab established in
SAM headquarters

2006

SAM moves to Mado Industrial Complex.
SAM appointed as an "INNOBIZ" (Innovation
Business Entity) by Korean Government.

2002

Development of ELS
(Electric Line Drive System)
for Gravure Printer

2000

ISO 9001 registered by UL.
Establishment of New Control Technology
company (N.C.T)

1998

Development of Pilot Coater

1996

Development of 5 Roll Coater
Development of Closed Chamber Doctor

1991

Development of Reverse Roll Coater
Development of Air Flotation Dryer

1987

Development of Extrusion Coating
& Laminator

1965

Initial production of Rotogravure Printer

1960

Sung An Machinery Co., Ltd. (SAM) established.
Organization
SAM's headquarters is located in Hwaseong, Korea, near the capital city of Seoul. At this state of the art facility, custom equipment is designed, manufactured and tested to exceed their customer's exacting specifications.
To support our global growth, we continue to expand our worldwide sales and service network. We are fully aware of the production demands placed on our machines and the need to maintain an efficient operation. When you install a SAM machine our reputation is on the line. Our experienced technical personnel are call on 24/7 to support and service your SAM machine. Industry leaders choose SAM!

AddressVia Ruffino Aliora 32, 15033
Casale Monferrato / Italy

E-mailinfo@sam-eu.com
SAM (Sung An Machinery Co., Ltd.)
Solution Coating Lab
Printed Electronics Lab (SPEL)
Address33, Madogongdan-ro 6-gil,
Mado-myeon, Hwaseong-si,
Gyeonggi-do, Korea 18542
E-mailsales@sungan.net
SAM NORTH AMERICA, LLC
SAM USA Extrusion Coating Lab
Address31 County Route 59
Oswego County Industrial Park
Phoenix, New York 13135 USA
E-mailinfo@sam-na.com
AddressUnit 1605, No. 888 Yishan Road,
Xuhui District, Shanghai 200233/ China
(上海市徐汇区宜山路888号新银大厦 1605室)
Address111 SS19/5B, Subang Jaya
Selangor 47500 / Malaysia
AddressLot G5, Dai Dong - Hoan Son Industrial Park, Hoan Son commune, Tien Du district, Bac Ninh province, Vietnam
E-mailsales@samasia.net
Manufacturing Facility
Manufacturing Facility and Corporate Headquarters

View of Assembly Line